This is the sermon I preached today (Sunday, 27th September, 2020) at Putney Methodist Church. We were celebrating a somewhat reduced Harvest today, with some decorations but no collections because of the complications caused by COVID. The Church had already made a substantial financial contribution to both local and international charities working with the hungry and those in need, and will continue to support such causes. The texts were: Deuteronomy 26:1-11; Luke 17:11-19.
Introduction
COVID has forced us to re-examine the way we do everything in church life, as much as in everyday life. It forces us to think about why we do things, and the way in which we do them. We shall reflect on that further next week when we try to celebrate Holy Communion for the first time in months. It's also relevant today, though, as we celebrate our 'mini-Harvest Festival'. What are we doing and why?
Harvest Festival is one of the high points of the church year, and one of the most popular. Traditionally, we might expect to see some people at church three times a year: Christmas, Easter and Harvest. For some, the name evokes happy memories of barn dances, harvest suppers and churches beautifully decorated with fresh fruit and vegetables. It's also one of the church festivals that those people outside of church may find easiest to engage with, because of its celebration of nature and the link, especially in recent years, with raising funds for good causes, at home and abroad.
Yet, Harvest as a church festival is actually a relatively recent innovation compared to many other parts of the Christian calendar. It was only in 1843 that an Anglican clergyman in Cornwall revived an older tradition of harvest thanksgiving to create what would become Harvest Festival. Gradually certain prayers and hymns became closely associated with that special Sunday and it took a firm hold in our heritage. Of course, the idea of celebrating the bounty of the earth and gratitude for the harvest is much, much older. Harvest festivals, in one form or another, can be found in all ancient civilisations and faiths – unsurprising, given the utter dependence of everyone ultimately on a good harvest. We are going to hear about one of those celebrations now in a reading from the book of Deuteronomy.
Deuteronomy 26:1-11 (First Fruits and Tithes)
When you have come into the land that the Lord your God is giving you as an inheritance to possess, and you possess it, and settle in it, you shall take some of the first of all the fruit of the ground, which you harvest from the land that the Lord your God is giving you, and you shall put it in a basket and go to the place that the Lord your God will choose as a dwelling for his name. You shall go to the priest who is in office at that time, and say to him, 'Today I declare to the Lord your God that I have come into the land that the Lord swore to our ancestors to give us.' When the priest takes the basket from your hand and sets it down before the altar of the Lord your God, you shall make this response before the Lord your God: 'A wandering Aramean was my ancestor; he went down into Egypt and lived there as an alien, few in number, and there he became a great nation, mighty and populous. When the Egyptians treated us harshly and afflicted us, by imposing hard labour on us, we cried to the Lord, the God of our ancestors; the Lord heard our voice and saw our affliction, our toil, and our oppression. The Lord brought us out of Egypt with a mighty hand and an outstretched arm, with a terrifying display of power, and with signs and wonders; and he brought us into this place and gave us this land, a land flowing with milk and honey. So now I bring the first of the fruit of the ground that you, O Lord, have given me.' You shall set it down before the Lord your God and bow down before the Lord your God. Then you, together with the Levites and the aliens who reside among you, shall celebrate with all the bounty that the Lord your God has given to you and to your house.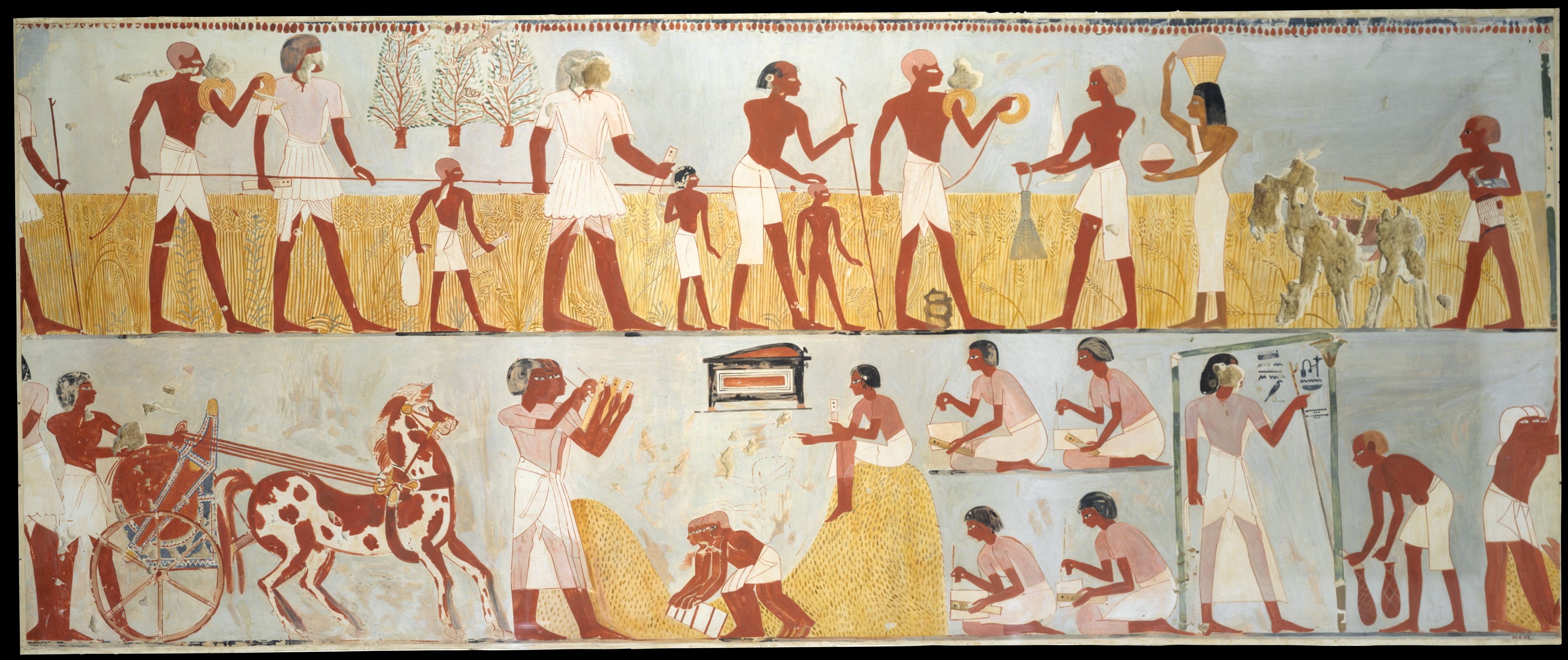 First Fruits
This rather touching ceremony, described by the writer of Deuteronomy, might be described as one of the first Harvest Festivals. In fact, the ancient Israelites, along with other cultures, had several harvests: barley, wheat, grapes, olives, fruit, and others. A study of Israelite religion in fact shows that nearly all the great Jewish festivals could originally be traced back to harvest celebrations linked to these different crops. Passover was probably originally associated with celebrating the in-gathering of the barley harvest, Pentecost or Weeks to the first wheat harvest, and so forth. Over time, though, these festivals took on a deeper meaning as people began to relate them to their own history and their collective experience of God.
An excellent example of this would be the main Jewish harvest festival, Sukkot, which Jews across the world have recently celebrated. This was the time of the olive and grape harvest. This required families to camp out in the fields and vineyards to collect the valuable produce, dwelling in temporary structures, hence the alternative name of the festival: Booths or Tabernacles. Over time, this purely practical arrangement took on a deeper religious significance as people were encouraged to recall the wanderings of the Israelites during the Exodus, when they had no homes and similarly had to sleep under the stars. It was a time where people were encouraged to recall not only their own history, but God's intervention in that history and, importantly, their responsibility for the stranger, the alien and the dispossessed in their midst.
We have something very similar going on in this reading: a description of the traditional practice of First Fruits – a tradition that continued well into modern times in many traditions. The message of the writer and the purpose of the ceremony is clear: people should recall their relationship with their Creator – and the rest of Creation – and their dependence upon God for all they have. There is no room for pride or self-sufficiency here. Everyone, from the richest landowner to the least, is called to bring their first and their best crops to God, who is the ultimate source of all that grows and exists on the earth. As they do it, they are called to recite that simple but beautiful summary of the history of God's people in the time of Exodus: "A wandering Aramean was my ancestor…". Finally, they may rejoice in what they have been given but not alone; they cannot hoard what they have solely for themselves and have a private party. Instead, the passage says, "you, together with the Levites and the aliens who reside among you, shall celebrate with all the bounty that the Lord your God has given to you and to your house." Again, they are to recall that all that they have ultimately comes from God and they have a responsibility to those who do not have their own land to harvest.
We are going to continue our reflection on the deeper meaning of Harvest with our gospel reading, today from Luke.
Luke 17:11-19 (Jesus Cleanses Ten Lepers)
On the way to Jerusalem Jesus was going through the region between Samaria and Galilee. As he entered a village, ten lepers approached him. Keeping their distance, they called out, saying, 'Jesus, Master, have mercy on us!' When he saw them, he said to them, 'Go and show yourselves to the priests.' And as they went, they were made clean. Then one of them, when he saw that he was healed, turned back, praising God with a loud voice. He prostrated himself at Jesus' feet and thanked him. And he was a Samaritan. Then Jesus asked, 'Were not ten made clean? But the other nine, where are they? Was none of them found to return and give praise to God except this foreigner?' Then he said to him, 'Get up and go on your way; your faith has made you well.'
The Grateful Samaritan
There is a real temptation to read this story as just a useful tale to tell children to encourage them to say 'thank you'. I am sure that we are all familiar in our different ways with those oft-repeated parental encouragements that I am now regularly trotting out myself: "What do we say?"; "Is there a 'thank you' coming anytime soon?"; and so forth. I would be interested to hear from an anthropologist or psychologist to know whether we humans are hard-wired for selfishness or gratitude, because it seems we must all learn to say thank you. I certainly can remember a lot of fraught hours spent after Christmas with my mother trying to get me to write thank you notes for presents received!
There is a much deeper call within this story, though, than simply a moral tale about basic manners, and a message that links back to what we have been talking about earlier with the passage from Deuteronomy and Harvest in general. There is a call here to live gratefully.
Within this short passage, we could talk about the division between Jews and Samaritans, which would have struck Jesus' first readers most acutely. But I want to concentrate instead on that basic call for us all to respond graciously to the grace we have received. Ten lepers approach Jesus and ten are healed. What happens to the nine who never bother to say thank you? Well, if this were a proper moral story designed to instil decent manners in our children then something horrible should really happen to them. Perhaps they should have been eaten by bears, like the naughty boys who taunted Elisha for being bald (2 Kings 2:23-25). Or thrown into the lions' den, like those who falsely accused Daniel (Dan. 6:24). Arguably, this would have provided a much more rounded narrative: "the good end happily and the bad unhappily" (The Importance of Being Earnest).
Luke simply records, though, that the nine ungrateful lepers, "as they went, they were made clean". They were simply healed; end of story. What does Jesus' special praise and blessing for the Samaritan mean then? Well, it has puzzled scholars and commentators but it arguably points to a deeper healing, a deeper wholeness in the grateful Samaritan. He had not only been healed of his ailment but he was conscious of the blessings he had received, and displayed a gratitude to the source of that blessing.
At this time of pandemic, I know only too well that many people feel that they have very little for which to be grateful. I think especially of those who have lost loved ones, those who have lost jobs, those who have been forced into self-isolation. I know too that many of us are very worried about what the winter holds as we seemingly return inexorably to a second lockdown. For such people and in such times, I think no one would blame them or us for finding it hard to find anything for which they should return to say thank you.
However, the current crisis has highlighted the deeper wholeness that comes from living life gratefully. No Harvest sermon would be complete without some visual aids, so here are mine: some pasta, a tin of tomatoes, a bag of flour and, of course, a toilet roll! What do these all have in common? Well, as you well know, they all became symbols of scarcity during the last six months, and I fear they may do so again. (There is a trained sniper in the gallery protecting the toilet roll!) Who would have thought it possible at harvest time last year that the shelves of the Sainsbury's next door would be empty one day? That we would be hunting across town for eggs, bread and tinned goods?
What about people too? I heard so many people stop to say thank you to the folks at the supermarket – something I hadn't heard before – and I know that I, for one, was pathetically grateful to see a supermarket delivery driver, when I finally got a slot online. One of the most striking memories of that time will also be the Thursday night 'clap for the NHS'. Whatever our misgivings, for so many participants it was a heartfelt act of appreciation for those who were doing so much to help them – and was their only way of expressing their gratitude. And perhaps we learned to appreciate others too more – neighbours, friends, families, the kindness of strangers.
I would suggest that the pandemic showed us that our society, and we as individuals too, often behave like the nine lepers, rather than the one grateful Samaritan. We have taken so much for granted, and been happy to pay as little as possible for as much as we can get, and simply to ignore those toiling away in the background to keep our world going. This passage, the COVID pandemic and our Harvest today are all calling us to re-evaluate the way we lead our lives, I would suggest. The ancient festival of First Fruits remind us that neither we nor our society are whole or healthy, if gratitude is not at the heart of all that we do, with a real awareness of where our health and prosperity truly come from.
That gratitude should lead us on to act in ways that express that thanksgiving and, as the passage from Deuteronomy reminds us, to share God's abundance with everyone. It may also rightly provoke us to anger and action about the way in which God's resources have been despoiled and mis-used. But our simple Harvest today reminds us as followers of Christ that we should always begin from a place of thanksgiving. That is the essential foundation upon which all other aspects of our discipleship and witness begin. Very often we may find it hard to find something for which to be thankful, and we will need the encouragement and support of others. But let us seek in our hearts that deeper healing, that deeper wholeness, which the one Samaritan enjoyed of living a life that always begins with thanksgiving. Let us bring our Harvest of Gratitude to the Lord, and to our world, this day and always. Amen.